In this edition of Bluepencil Recommendations, we bring to you Stand-up specials to enable you to forget the drowning reality of the inevitable stay at home that you're unable to escape the clutches of.
HANNAH GADSBY: NANETTE  ( Recommendation by Manvi Panwar, Ist Year)
1h 09m, Netflix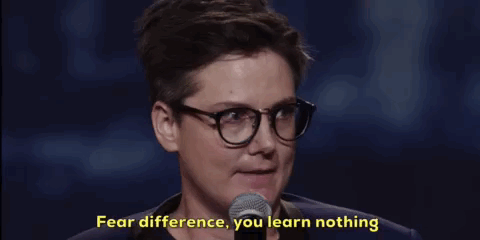 Nanette is not your basic standup. Go to Nanette when you want to feel heard, feel seen. And I know that's not something you'll expect out of a stand up but as Gadsby herself said, women are meant to defy genres. It builds up from art and Picasso, mental illness goes on to bring up the abuse faced by her as a woman and as a queer person, as a not-normal person.
And she makes it funny where she wants it to be, she breaks the tension when she wants to and then she leaves it there for the audience to grapple with, to handle it, to feel it. She refuses to indulge in self-depreciation, a revolutionary act in the field that has built it upon the shackles of the humor of broken people.
"Do you understand what self-deprecation means when it comes from somebody who already exists in the margins? It's not humility, it's humiliation."
It sets a benchmark for how you view standups and comedy. It shows how revolutionary humor can be, how it can mobilize people. How it can create a world with less hate and empower us with the strength to resist. 
Yours Sincerely, Kanan Gill (Recommendation by Khushi, III Year)
1h 12m, Netflix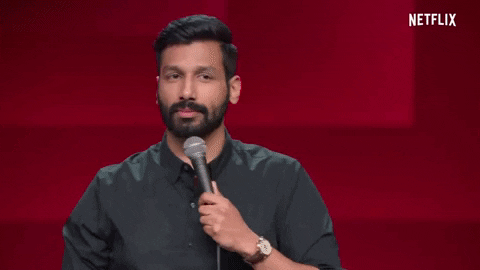 Date: 09 July 2021
Dear Friend of the Bluepencil,
Hello! How are you? I hope that you are doing fine. I am doing great here. Absolutely amazing. Having the time of my life. If you're scrutinising the absence of the sender's address in the letter, don't. Let tolerance to the inadequacy and imperfection in the format of this letter be the testament to our friendship.
I heard from a relative of yours that you have been spending a concerning amount of time in front of your screens. Which relative? I shall not disclose. As a friend, I advise you to go and watch my recent favourite stand-up special. On Netflix. Which may possibly involve a screen. It just so happens that Kanan Gill's 'Yours Sincerely' is centred around a formal letter he wrote in his teenage years to his future self. In this special, he evaluates which goals from the ones he'd set for himself have been achieved and which have been redefined over the years. The show is sprinkled throughout with PJs; your favourite kind, I remember. Although Kanan sells his own special as a timepass, my personal biased opinion is that it is side-splittingly humourous. Or at least consistently chucklesome.
I hope that you enjoy the special. Waiting to meet you soon. Pay my regards to your family.
Yours sincerely
Khushi
COMEBACK KID : JOHN MULANEY(Recommendation by Ishita Singh, IVth year)
1h 02m, netflix
"You have the moral backbone of a chocolate éclair."
If that doesn't define at least half the people you've let in your life, you, my friend are quite well put together and maybe I'd leech on you for stability if we meet in real life. But for the others, who see in this line an opportunity, to annoy those around you but using it all day, everyday, this show is for you.
John Mulaney's Comeback Kid is 1 hour and 2 minutes of apex storytelling and numerous bouts of laughter all up in your business. He talks about his marriage, his grumpy bulldog Petunia, his meeting with former president Bill Clinton, babies and snitches, his father and black coffee and other hilariously iconic instances that you wish would happen to you.
Mulaney is a masterful anecdotal comic and while showing himself as someone who is maybe not the alpha of his house anymore and is under the kind of stress that we can clearly imagine, he is also a man who married a cow because he truly loves her.
WANDA SYKES: NOT NORMAL (Recommendation by Manvi Panwar, 1st Year)
1hr, Netflix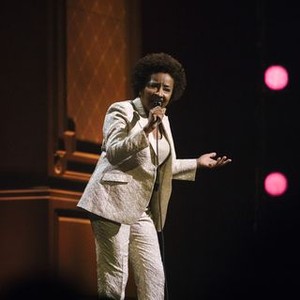 Wanda Sykes covers everything from the Trump administration, the cultural changes going on in the USA right now, it goes on to tackle parenthood, healthcare biases and aging with a very conversational style of comedy. It's as if you know Sykes despite her kind of mysterious on-stage persona. She doesn't hold back, presenting her observations with a razor-sharp wit and unabashed opinions. And she tells you how when her white kid kicked her face with a balloon, she couldn't say "ain't no playing with me son" like the black women she is, and couldn't tell her wife about how the balloon hit her eye and it caused immense pain to her.
BO BURNHAM: INSIDE (Recommendation by Manya Sinha, IIIrd year)
1hr 27 minutes, Netflix
Oh boy, where do I even begin. Bo Burnham is frankly tired and very disappointed with the attention he receives. He writes and sings satirical songs to enunciate the hypocritical and power-starved dynamics of society.
He has a way of making you feel morally superior with his cracks on double standards but then immediately bringing you down a notch by making you aware of your own humanity.
His "Truman Show"-esque comedy makes you feel like a pervert witnessing a man's mental breakdown, all for your entertainment.
Bo's theatrical comedy is truly something I dream of experiencing in real life.
DANIEL SLOSS: LIVE SHOWS (2 PARTS) (Recommendation By Manya Sinha, IIIrd Year)
59 minutes each, Netflix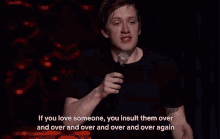 I cannot NOT mention one of my absolute favourites, Daniel Sloss. His crazy-good writing, adorable Scottish accent, "dark" humour and confidence are a treat to the senses.
In his specials, he talks about why humour is the best way to humanise a tragedy, his utterly tragic life as a white cisgender man without any trauma, and guns being pulled in America over religion jokes (reminds me of a state that I refuse to name).
If you need someone to give you brilliant revelations on life, while at the same time enjoy a hilariously well-timed joke, he's your man.
Actually he's not, he's engaged. But a girl can dream.
TAYLOR TOMLINSON: QUARTER-LIFE CRISIS (Recommendation by Manya Sinha, IIIrd Year)
1hr 1minute, Netflix
"Love is Blind, Lust is Helen Keller".
Taylor's style of comedy can be best described as a mix of old lady and unfortunately irresponsible wannabe adult.
Her excellent writing, smooth on-screen persona and fear of being "fun" make her a very likeable and relatable comedian.
Watch her breeze through the monotony of real life and come up with witty observations, combined with her choreographed dance steps for each punchline.
Taylor's uncanny comparisons make you view the world with a different lense. Don't let the persona fool you though, she's not fun at parties.
RHYS NICHOLSON: LIVE AT THE ATHENAEUM (Recommendation by Manya Sinha, IIIrd Year)
1hr, 5 minutes, Netflix
If you ever wondered about what goes on in the mind of a 20 something gay comedian with a drug-addled past and non-Ikea furniture, Rhys Nicholson is your showstopper.
Find out how you can be a comedian after obviously screwing up law school as he uncoils his brain infront of you and reveals his adventures with angry letters from 'fans', horse tranquilizer, and stress on how he is NOT to be mistaken for a gay icon (DO NOT.).
Rhys's comedy style is very scattered, much like my brain was after realising I'm missing out on material for a future stand-up special with all the could-have-beens looming over my lockdown monotony.