Imagine coming back from school and running straight to the TV room to switch it on and watch your favourite cartoon network cartoons while having lunch. Cartoons such as dexter, the power puff girls, Tom & Jerry, Courage the Cowardly Dog, and many more. Ah! The good old days.
CARTOONS is a very widely used term and is often used to signify media that young children consume. Cambridge Dictionary, however, defines cartoons as "a TV programme or short film, usually a funny one, made using characters and images that are drawn rather than real." Common perception leads us to associate cartoons with childish things. Still, if we take time to look at the definition even once, we'll see that a cartoon's existence is not bound by the target audience's age.
Anime, according to Oxford Dictionary, is a style of Japanese film and television animation, typically aimed at adults as well as children. To animate essentially is to draw, and so it does fall under the category of a cartoon. However, from personal experience and having watched a plethora of such anime pieces, I stand by the fact that a major chunk is quite far from being directed towards children as the target audience. Having said that, I agree that a lot of anime are children audience-specific, such as Shinchan, Doraemon, etc. Still, this write-up's main aim is to attempt to break the stereotype attached to them and recommend some anime directed towards a general target audience consisting of people like you and me.
This article is another set of recommendations from my end, where I try to coax people this time to watch anime, or at least give them a try. Trust me when I say that you are missing out on a world of glorious entertainment just because you chose to blindly trust the stereotypes. Now that we have reached an understanding, I would like to clear the fact that I am not going to recommend the already established and mainstream anime like Naruto, One piece, Deathnote, or Hunter x Hunter(although they are amazing shows, you should definitely try). That being said, let's dive into some of my personal recommendations based on specific genres you might want to explore.
ACTION
1. Noragami – this anime is set up in the world of gods and humans, where the number of human worshippers and the shrines are built for them give the gods a higher status. A God named Yato, who grants wishes to people only for a small price of 5 yen and also does household chores on-demand on the side, aims to become a popular god with all his hard work, 5 yen at a time. Yato, his spirit vessel, and a girl who can see them after an accident form the story's core. The action sequences, storyline, and background score are outstanding and worth a try.
2. Bungou Stray Dogs – set in the world where many people have supernatural abilities, the Armed Detective Agency solves cases that the police or the military can't handle. Constant cooperation and tussle between them and the Port Mafia, characters named after literary luminaries and their abilities named after one of their books, the show boast of a good art style, great action sequences, and some eccentric characters you can't help but love.
3. Banana Fish – a story spun in the world of mafia and street gangs and the mysterious last words of a soldier who killed all his fellow soldiers while posted in the Iraq war. It gives you a gritty and action-packed experience. Ash Lynx, a runaway picked off the streets by the godfather of the mafia and, Eiji Okumura, a Japanese photographer reporting on American street gangs, take on the journey to investigate what banana fish is, pulling us on the edge of our seats.
FANTASY
1. Attack on Titan – humanity has been reduced to a near-extinct few, surrounded by 3 enormous walls protected from the danger that lies outside. After almost a century of peace and safety from gigantic human-eating titans that exist outside, the outermost wall is breached, and titans flood in. Carnage is ensued, and humans run for shelter in the 2nd wall. The threat comes to face them, and humanity now has new enemies, and it is up to their own strength to fight and survive. This anime happens to be one of my favorites and definitely a must-watch.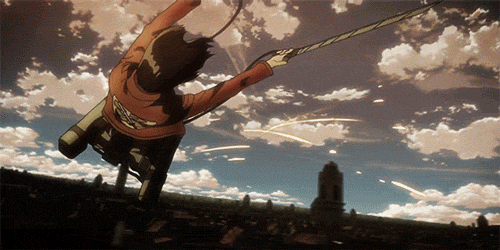 2. Devil is a Part-Timer – after Satan declares war on the land of Ente Isla, he is confronted by the Hero Emilia, forcing him to retreat during which, he and his loyal servant accidentally end up landing on earth with no way of going back. Satan then, to survive in this world, takes on the role of a MgRonald's worker and soon changes his aim to climb the corporate ladder and rule earth instead. The show hilariously shows mundane human life from the perspective of an all-powerful demon lord and leaves you wanting more.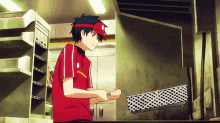 SLICE OF LIFE
1. Anohana: Jinta Yadomi starts seeing and hearing Menma, a friend who died years ago. Menma keeps pestering him about figuring out and fulfilling her last wish. Her appearance ends up reuniting all her friends while they try to come to terms with her death and the personal baggage they acquired over the years. An absolute tear-jerker, the story is beautifully woven. It makes you understand friendship and the importance of people in life.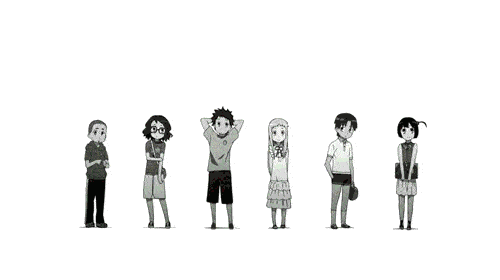 2. Angel Beats: Yuzuru Otonashi wakes up wearing a school uniform, unable to remember anything but his name. Soon finds out that he has reached the afterlife and is in limbo before passing on. He soon joins a group of kids who have waged war against god in retaliation for the hardships they went through when they were alive. The story goes on to unfold quite beautifully, the lives of all the characters, and gives a fresh perspective to the cycle of life and death.
ROMANCE
1. Toradora – this is a cute and heartwarming story revolving around Taiga and Ryuji, poles apart, becoming friends, and trying to help each other confess to their respective crushes. The story also tries to portray the fierceness of teenage life and realizing one's own potential and coming to terms with one's identity, and embracing it.
2. Kaguya Sama Love is War – the president, and the vice president of a prestigious school's student council are in love with each other. Neither would confess first, however, because Love is War and the one who confesses first loses the war. The show majorly revolves around them trying to manipulate the other into confessing first while playing intricate mind games and a few unpredictable characters who don't realize the existence of this ongoing tussle.
PSYCHOLOGICAL
1. Code Geass– set in a world where Britannia conquers Japan and now calls it area 11. Lelouch, an exiled prince and man of genius intelligence with a hatred of the current system of anarchy, acquires the power of obedience from Geass. He then learns how to wield power and uses it to try overtaking the Britannian empire. The show unveils some very intricate and complex ideas and plot points and takes us through the vigorous psychological warfare that the characters undergo.
THRILLER
1. The Promised Neverland – in the year 2045, Emma, Ray, and Norman are elder-most children in an isolated orphanage, where they are surrounded by bars and walls, and the only way out is to get adopted. Emma and Norman soon discover that the orphanage is not a typical house rather a farm, breeding humans to be fed to demons, and the mother of the orphanage is the keeper of the farm. The show goes on to reveal the dark reality of the situation, understanding which the children plan to escape their fate of being devoured with the 'Mama' on their tail trying to stop them. Definitely a great watch!
This list is in no way exhaustive, and there are many more anime I'd like to recommend. However, given the time and space restrictions, recommending all of them would be an arduous task. Instead, I'll be open to queries or requests for more recommendations and, if somebody wishes to recommend some to me, I'll wholeheartedly accept them.
This article has been written by Ishita, III year