It's a world full of music thieves. When I say this, I am not hinting at the kind of thievery where 'Five Hundred Miles is given its Indian touch by making out of it a 'Jab Koi Baat Bigad Jaaye'. I am talking about you and me being thieves—the thieves who have songs in our playlists stolen from people, who if given a choice, we would let go of. That is why these song they still rest in the playlist for years after they were added, even if we have stopped listening to them. The playlist could also have that indistinct music playing in a strange dim club which we shazam-ed while dancing to it. One of my old playlists has 163 songs, many of them found not on exploring myself, but by stealing them from others' playlists. Though they remain extremely close to me, I decide on being generous enough to share a nugget of my much protected playlist.
Bad Romance, Lady Gaga
I, an 11 year old, was fangirling about Selena Gomez being the best artist on the forums of a virtual reality game I used to play when a 17 year old whose domain picture had Lady Gaga on it harshly dissed my music taste and referred me some songs so I could open my eyes to the 'real music'. 'Bad Romance' was one of them. Though I now had a very frail ego, there was no denying that the song was amazing. And then we went on to become really good friends.
2. The Tunnel song (Heroes by David Bowie)
If you've seen Perks of Being a Wallflower, you know what this song is. And if you have not seen the movie, something great awaits you. Go make some good use of Netflix.
3. Aye Sinamika, OK Kanmani
I feel privileged to have entered my doors to South Indian cinema and music through this song. Though I have about 30-35 south Indian songs now, this was the first one forced upon me by a Malayali friend who was insistent I take something beautiful from Chennai with me.
4. Kuch Bhi Karlo, Swastik The Band
My MTV 6pm show had finished and I was switching through channels when I found this indie song on VH1. And till date, I remain confused as to why the couple had newspaper all over them. Let me know if you figure out. 
5. 4'o Clock-RM and V
'RM AND TAE ARE MY BIAS WRECKERS AFTER 4'O CLOCK' is what my BTS obsessed friend had tweeted me. After listening to the song and its translation, I can confirm that RM and Tae-hyung can honestly prove to be your 'Bias Wreckers', stay careful.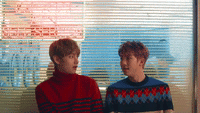 6. Afterhours, TroyBoi
This one hell of a trippy song sneaked its way from my Cousin's car to my playlist when he was driving us to McDonalds and had stolen my softie (God won't forgive you).
7. Kharch Karod, Fazilpuria
I'm not really into Haryanvi rap but no lying, it sounded so much cooler well my friend blasted it on his stereo, trying to lip-sync like a rapper. This song, till date, remain the most random thing Randeep Hooda has done.
8. Distant Places, Penn Masala
God bless this friend of mine who introduced me to a capella and Penn Masala in particular. I remember being full on inspired by this South Asian group of UPenn to start an a capella group of my own. This original track by them is reflective of their journey.
9. Maeri, Euphoria
I can never not like the song that Maa introduced me to. She told me it used to be 'The Deal' in her college days, just like Euphoria, the band which composed it.
10. Farak, Divine
When my favourite YouTuber was going gaga over 'Main mere maa keliye jee raa hoon', I had to check out what the fuzz was all about. 3 years later, the world knows what the fuzz was all about.
This post was written by Khushi, Ist year.