This edition of the Things of the Past features:
Number 1: The Atrium
"A hall lit by daylight from above, into which rooms open at one or more levels."
This is how the dictionary defines an 'Atrium'. It is also a chamber of the heart. Our atrium is both, and it recently underwent a solid makeover. It is now a vision in white,with the sunlit marble shimmering like a mirage in the desert. The atrium has also become a popular choice for the denizens of the college to conduct flash mobs in. It is the heart of the college, quite literally, albeit a heart of stone.
Some say that the the fancy marble makeover is a heartening change, others…well, disagree. Either way the cold, stone-hearted atrium doesn't give two hoots, and for better or for worse, is here to stay.
Patthar ke sanam, anyone?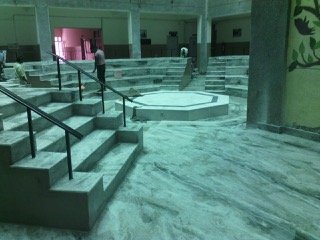 Number 2: The Fence around the Girls' Hostel
So, it happened one fine day,

Fences were up, not so bad it was supposed to be,

Concern struck on each person's face,

Trying to act cool but just couldn't be.
As much as everyone loves surprises, our beloved college decided to give one to all of us a few days ahead of Valentines' Day in 2016. These lustrous steel barbed wires complemented the armour of every girl's knight. Exactly what the girls wanted. It was lovely to see the various show of expressions that were made by not only the girls but most of the student body. One of the rare things you come across in college when the ENTIRE STUDENT BODY reacts to it. Sadly for the present students and the ones who are yet to join the college, there will be no more planned or unplanned outings. No more infiltration.
So, here's hoping with just a few days left for the year to end, the girls are not made to live in a dome in the next year or in the years to come.
Number 3: The Dresscode for the First year
"The Punjabi salwar Suit is worn in the Punjab region in India and Pakistan. It consists of the chunni, kameez and the salwar when worn by women. The Chunni can be of varying lengths. kameez  is made up of two rectangular pieces sewn together with side slits, similar to a tunic."
We feel it's imperative to define what a Punjabi suit is since gone are the days when the first years wore them at the beginning of the semester. The revered tradition of wearing suits until the Fresher's by the first years is now discontinued.
There was a time when students used to wear white colored suits every day, as shown below.
Then came the era of coloured Punjabi suits.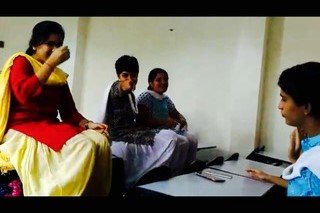 And then there were none.
This post was written with the help of the contributions made by Samyukta Menon  and Parika Bharadwaj of the Second year.