It's only been a few days since non-state entities/perpetrators launched an attack on an army base in Uri. Since then news channels have been more than prolix in bombarding an abrasive neighbor with creative tirades. The Pakistani Prime Minister delivered an inane speech in the UN General Assembly that was more of an attempt to make a martyr out of Burhan Wani. The Indian envoy not only eviscerated the Prime minister for promoting the commander of a known terrorist group, his nation was also subjected to shame for its entente with terrorist organizations.
We the people of India having been subjected to heinous acts of terrorism resolved into creating a miasmic atmosphere for Pakistan at an international level so that it is forced to expiate and move towards stability rather than felicitating terrorism against other nations. In all of this one MNS leader made a statement asking Pakistani actors to leave India within a span of 48 hours. At first, one would just disregard it as a remark of a right wing leader trying gain political mileage off the current scenario. Later, in the week the IMPPA i.e that is the ace producer's association banned Pakistani actors. Some would call it a capricious measure since they are just artists doing their work and they aren't the ones responsible for the attack. However, after pondering over it for a while it did not seem so outrageous. Let us see how and why?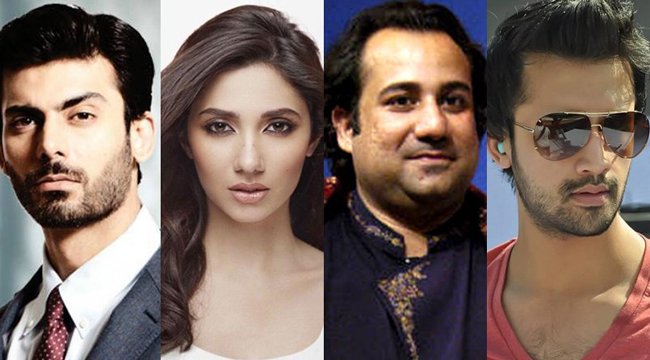 The polity of Pakistan is such that the common man has no say in the running of the nation at all. The political class manages to lose all its fuel trying hard to take charge. The army always overpowers politicians and other democratic institutions because of its nexus with terrorist groups. After all no politician would want to meet the same fate as Benazir Bhutto, therefore no one dares to stand up against the army. The result being, in order to maintain their own lifestyle and limited influence the politicians don't mind bending before generals. The media is manipulated accordingly. Independence of institutions and the system of checks and balances does not work. The general public is left only to make a guess with whatever limited information it has access to, which is also colored subject to the whims and fancies of those in power, as to who is really governing them? All these factors add up in order to negate the growth of any industry as everything is subject to de facto control of the army. So when it comes to the film industry actors are more than willing to catch a flight to Bombay.
Now when the Pakistani actors come to India, they are loved and respected as our own. We all welcome them with open arms, we hardly discriminate. India was attacked yet none of them expressed any support to us but for the sake of a counter argument it can be considered that they are just artists and aren't responsible for acts of terrorism and that their loyalty lies with Pakistan. However, isn't that the exact subject why they migrated to India which they refuse to comment on? Anyhow let us weigh, what would happen if India was to deport them? Yes, art would suffer a minor blow. But it would ignite a whole new chain of events starting with disappointment to lack of opportunity for them in the parent nation. Being artists having made a name abroad they attract big fan following at home. As public figures they have a duty towards their own to speak up and to enlighten the masses. Their own people are subjected to terrorism (Peshawar School Attack 2014) despite that, those in power, play hand in glove with terrorist organizations. Humiliation meted out to them internationally would force them to speak the truth at home, about their home. Most of them have reached such stature that people would listen to them when they speak. This could be an exercise similar to that of imposing sanctions on trade and commerce. It creates a sense of disappointment among the general public towards the policies of those in power. A modus operandi to strong arm nations to bend their ways, apart from retaliation in the form of surgical strikes.
This outburst of the emotion of the MNS leader Ajey Khopkar and the resolution of the IMPPA reminded me of an identical instance. We all are proud of that story which was widely circulated the internet about Mr. Ratan Tata after the 26/11 attacks wherein he refused to do business with his Pakistani counterparts and when an Indian minister tried to force him, he shut him up. This is a similar situation, just that business men have been replaced with artists. Wherever the word artist props up, we Indians tend to get a lot sensitive about their rights and start considering as a threat to the survival of the art as whole. The idea of deporting Pakistani actors sounds outrageous and unreasonable because a) we have a soft corner for artists b) we also have a soft corner for Pakistani actors. If we (Indians) like them so much that the mere suggestion of deporting them sounds ridiculous. Imagine how very pained would the Qaid-e-Azam ki awaam be if we actually deport them.
The article was submitted by Sushant Kareer.