The woods are lovely,

dark and deep,

But I have promises to keep,

And miles to go before I sleep.
Just another hazy, chilly day in Chandigarh. But despite the weather, the mood of the volunteers was sunny and full of vigour. The students of Army Institute of Law and a few other volunteers from the internet/social media, congregated on January 24, 2016 outside the Neelam Theatre, Sector 17, Chandigarh at around 11 a.m. to execute a Freeze Flash Mob initiated by Greenpeace India.
A flash mob is a group of people which gathers in a crowd of unassuming onlookers and without warning breaks out in a dance or freezes or perform an unusual act for a brief period and then quickly disperse often for the purpose of entertainment or spreading a message. Its surprising, its bizarre, and its just downright awesome!
Holding colourful posters with witty slogans demanding their right to clean air, these masked volunteers aimed at creating awareness among the general public on the significance of the need to come together to find solutions & harness new technologies to tackle pressing issues of air pollution. Not just Delhi, the rest of India too needs to fight for clean air.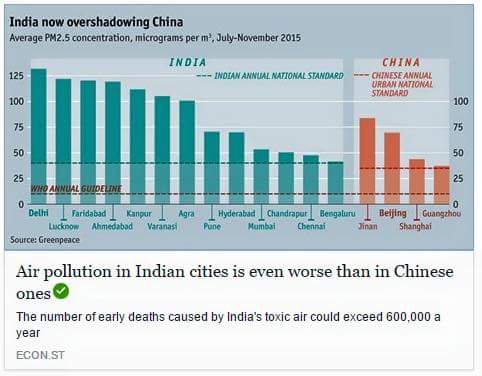 According to the WHO, 13 of the 20 most polluted cities are in India and most of India's mega cities are also choking on toxic fumes. This is a rather hapless reality that most of us are being subjected to on a day-to-day basis.The WHO's data has further revealed that air pollution is the fifth largest killer in India. This is an extremely dire situation for us all to be in.
We must all join hands to ensure that clean air, indeed, does remain our birth right.
The write-up was submitted by Tanushree Tanwar.