The Blue Pencil has decided to give people with non-academic interests some long due credit. We're really proud of how these guys find time to do what they do despite all the moots, seminars, projects and exams that the college flings at us. Not to forget those compulsory attendance thingies.
This week we are going to talk about the male gymmers of AIL. People who may or may not show up for lectures but reach the gym at 4 pm sharp.
Pankaj Thakur, 5th Year 
 A budding lawyer and a fitness enthusiast, as he likes to call himself. He started working out in April 2012 after a breakup because he needed something to distract himself. He swears by the quote 'Breakups make bodybuilders'.

Pankaj's favourite song to workout to is Stronger by Kanye West. He finds it funny how people who have actually just started working out a week prior give others some serious gymming tips and advices. He's never been in a fist fight and doesn't intend to be in one either.
When we asked him if he would like to say something to the crowd of AIL, he said,
"When we were newcomers to the college, there wasn't much crowd at the gym. Trends have changed now and it's a good thing to see people in the gym…ALL THE TIME!  So, I hope AIL produces the fittest bunch of lawyers. CHEERS."
Gehargeet Grewal, 4th Year
Gehargeet started working out in April 2013 and there has been no stopping him since. He's a Punjabi music enthusiast and likes working out to Ikk Bottle by Sherry Mann. He likes to believe records are set by people who have no limits. He's fainted twice in the gym due to excessive workout sessions but has been going strong for more than 2 years now. His gym story has something to do with a heartbreak as well, but the less said about it the better. He's also never been in a fist fight.
His advice to people would be-
"Sweat dries, blood clots, muscle recovers, so suck it up!.. be healthy stay fit! At the end .. tough times are like physical exercise you may not like while you are doing it, but tomorrow you'll be stronger because of it."
Digvijay Singh, 4th Year
Being bullied made Digvijay sign up for a gym membership and there has been no looking back since. He started working out because he wanted to be the strongest and liked the air of superiority that came with it. He also successfully took the bully on a ride, as soon as he realized he had the strength to. He believes that health is a continuous process and there are not shortcuts to hard work.
When asked where he gets his motivation from, he quoted Tom Fleming,
"..somewhere in the world, while you rest, somebody is training and when the two of you compete, he will beat you."
Vicky Gupta, 4th Year
A very proud Punjabi, Vicky (as he's popularly known) is a passionate gymmer. He started working out when he joined college and has been at it since. He likes working out to all sorts of music but his favourite would be Bring me back to life by Ht Bristol. He believes working out gets one a better high than drugs and advices his fellow AILians to get addicted to the gym instead of drugs.

Well, wouldn't that save a lot of people a lot of money?
Yogesh Chauhan, 2nd Year
Yogesh or Yogi as he is popularly called has been working out since the first week of college. He wanted to do something productive since studying alone gets a little monotonous. He believes gymming helps him to not only keep fit but also improve relationships and give him a major ego boost. He says the best place to calm yourself down is the gym and it can make one fall in love with himself.
Gurnoor Singh Sandhu, 2nd Year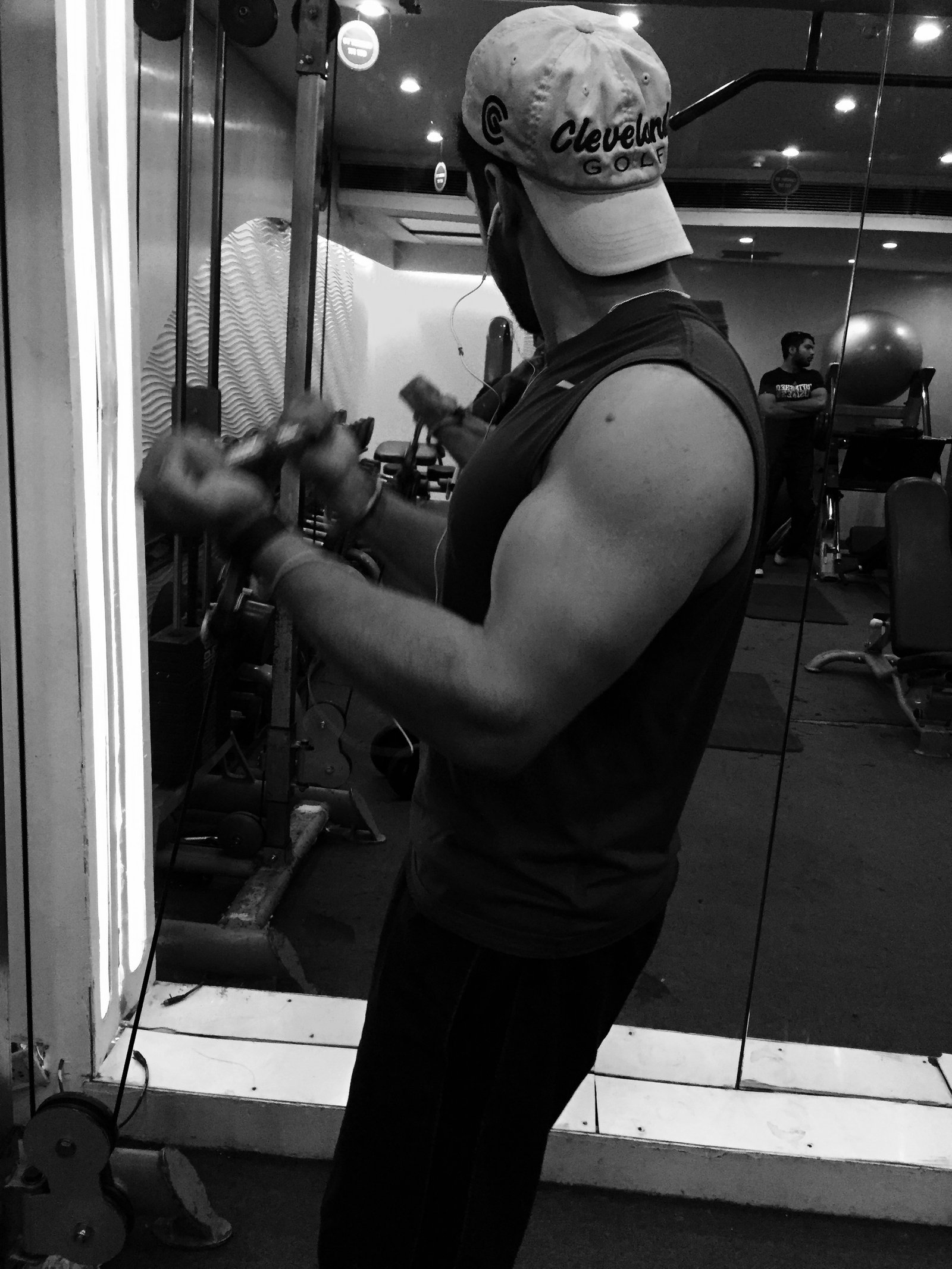 Gurnoor started working out when he was in the 11th Grade. He believes in hard work and devotes equal time to all his interests. He loves gymming to Counting Stars by One Republic. His favourite gym quotes happens to be-"Your gym dues aren't paid with money". According to him, the worst thing that could happen to a guy who lifts is when he can't control the heavy weights and ends up dropping them on his own self. Gurnoor has been through this and calls it the of most embarrassing moment of his life. A golf player, Gurnoor could not find time for leisurely activities and then decided to work out and has been doing so very religiously till date. He is almost addicted to it, he says. On being asked if he's ever been in a fist fight he answer in the affirmative and said that since he was  a Johnian, such things were actually pretty common there. His advice to us would be to strike a balance between all aspects of life and work on each one of them.
Kartik Doot, 2nd Year
A former basketball player, Kartik started gymming about 4 years ago. He started with his father, who guided him through it and dedicated almost 3-4 hours in the gym daily. He has never once taken any sort of supplements but has the X-shaped body most men want. He works on aesthetic and body weight exercises and hence is not as buffed up as a body builder but claims to have equivalent strength.
He believes in working out in silence, without any music and finds it more peaceful. Which surely should make him a personal favourite of the people working the research cell. Kartik is of the opinion that strength makes people more polite and generous and they respect their fellow strugglers. He's promised himself to never stoop down to fighting unless it's the last possible resort.
About the AIL gym, he says, "…….you know what a beautiful gym we have, with state of the art equipment and the best trainer ever known. It was last renovated in 2008 or 2009 with majority of machines broken or not calibrated, but still the devotion of the students to get fit is such that they overlook such small restrictions and go for whatever they have without bothering the authorities or we do bother them but they don't listen."

If you ever cross him in the corridors, ask him to do the human flag. He'll be more than obliged to.