"The Blue Pencil has decided to give people with non-academic interests some long due credit. We're really proud of how these guys find time to do what they do despite all the moots, seminars, projects and exams that the college flings at us.
This week we have decided to feature the popular instagrammers of AIL!"
Adnan Sharda, 27.4k followers
"Plain. Dark. Subtle."
Adnan got his first camera as a "hand-me-down" present from his elder sister after she realized she wasn't cut out to be a photographer. That is how this popular instagrammer ventured into the stream of photography and hasn't been able to stop since! Interestingly, it was only after coming to college that Adnan started instagramming his amazing pictures (Such inspiration after coming to law school?). After being made a suggested user by Instagram, Adnan's profile gained popularity and he amassed nearly 30k followers. Modest as he is, the ingenious instagrammer attributes his success on Instagram to "sheer luck" (And some unabashed abuse of hashtags initially!). Adnan's profile is essentially abstract, based on no particular theme, but his followers find beauty in its fickleness. He believes that a man captures in his camera his experiences in life and his own pictures reflect the subsequent phases of his life like a flashback. He recently developed an affinity for landscape photography. His love affair with nature commenced last year when he was enraptured by the haunting beauty of the mountains. When asked about his Instagram goals for 2016, Adnan asserted (and re-asserted!) that he is looking forward to making portraits, especially of his own batch-mates, before he bids adieu to the college. So AILians, do not at any cost, miss the opportunity of being captured by this incredible photographer. And for all those who have been wondering why the shoes have remained a constant subject of Adnan's photographs, let's just say that it's his inimitable style and he prefers to keep it enwrapped in mystery.
P.s. His Instagram feed essentially contains "phone pictures" (What phone is this anyway?!)
Gurbani Buttar, 3,666 followers
"Fashion. Lifestyle. Soul talk."
"A lawyer from 10 am to 6 pm and a blogger all the time!" Although having a dual profession can be quite challenging, Gurbani loves every bit of it! Gurbani embarked on this journey by starting small; she's been styling her own outfits since childhood and has been in love since then. This in-house family stylist, eventually, decided to spin her love for fashion and writing into her brainchild, Spangle Street! According to Gurbani, Spangle Street gained more prominence after she joined Instagram to connect with a larger audience! She believes that Instagram is more user-friendly and also the fastest platform for promotions. Gurbani's profile is based on one simple mantra "Fashion is for anyone and everyone." As a fashion blogger on Instagram, Gurbani tries to keep things as real as possible. She wants to make fashion accessible to all through her Instagram posts. Gurbani didn't wish to commercialize her hobby too soon and has, thereby, only recently started collaborating with start-up brands which offer more versatility. She mostly does product exchanges for brands wherein they send her the awesome products they want to feature and she does the promotions accordingly (lucky girl!) The wonderful people behind the camera for Gurbani's shoots are usually her family and friends, nay anyone she can catch hold off! When asked whether she considers fashion blogging to be an expensive hobby, Gurbani stated that it isn't if you're doing it as a hobby, but if you wish to pursue it as a career – you cannot compromise on the quality!
And for the men of AIL, she has just one simple fashion advice
*drum roll*
"GET RID OF THOSE SLIPPERS!" (It's about time, boys, it's about time!)
Ananya Mukherjee, 791 followers
"My feelings in photographs"
(We swear she didn't bribe us for a second feature)
Ananya's journey with photography started with a cybershot in Class Xth. Creating portraits started as a favor for a friend and she has been hooked ever since! Ananya's agenda on Instagram is crystal clear: rekindle her love for poetry and tackle the stereotypes of beauty! Ananya believes that beauty lies within imperfections and never conceals the flaws of her subjects. #everydaybeauteousness was created so that women could let go of their insecurities, and be appreciated for who they are! Contrary to the general perception, Ananya states that it is not necessary to be naked for her photos. It is quite evident that Ananya has established goals, yet her message somehow doesn't get conveyed the way she wishes it to. When asked about the drastic contradiction in how her pictures are perceived as opposed to the rationale behind them, Ananya simply said, "People that I want to target are seeing what I want them to see through my pictures and captions alike." Ananya says that she finds support outside the college, more than inside it. In fact, socializing on Insta has landed her some big projects and collaborations – InspiroIndia, Aditya Verma Studios to name a few. Her portraits racked up more likes than the landscapes and Ananya reasoned it out quite simply, "Few things catch people's attention – sex and a woman's body". This is the very taboo that Ananya has been trying to fight through her pictures. Ananya further says that her subjects inspire her! Women in the college are becoming bolder by the day. When asked why she doesn't capture the male beauty as well, Ananya said that she did offer them, but the men were hesitant. She wants to capture everyone, irrespective of the gender. In her words, "Too bad I could only capture girls till now. I would love to shoot guys in the coming year. I want to move beyond girls and put all genders on the same platform; and deliver the message loud and clear: Everyone can be objectified. Everyone can be beautiful. Everyone can be naked. Everyone is the same."
Karishma Govil, 662 followers
"Fresh. Bright. Colorful."
(And we couldn't agree more!)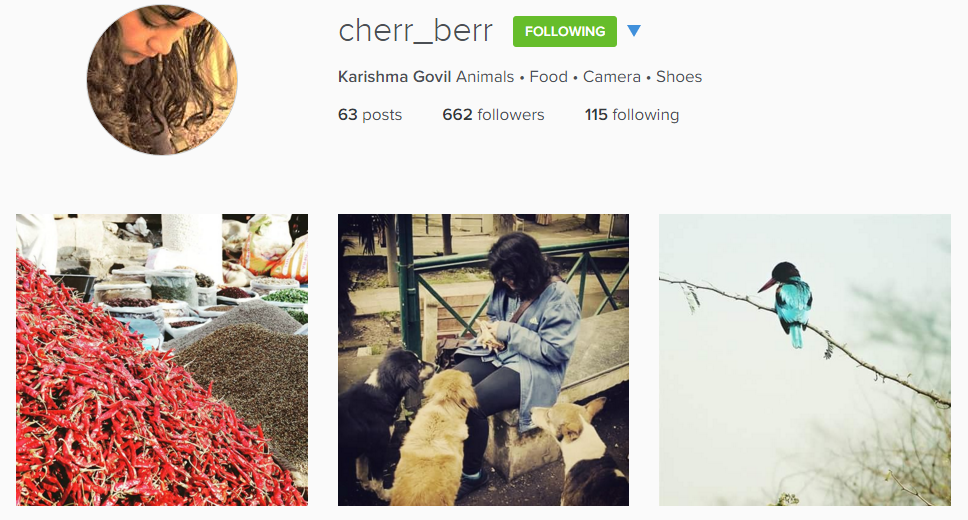 While most people get caught in Instagram's constant followers' war, Karishma keeps herself at bay! Her only purpose on Instagram is to share her wonderful photographs with the world; she couldn't care less about the numbers and prefers to maintain a low profile. Photography has always fascinated Karishma and a box full of old b/w family photos is all it took for her to start pursuing it! Karishma takes delight in capturing nature, light and architecture. She says that nature always captured her imagination; hills feel like home to her! (Guess what?! She would have traveled to 10 places by the end of this year! Now isn't that amazing!) Karishma's belief that every photo tells a story, reflects like a dream in her Insta photos! She believes that anyone could learn how to operate a camera, but creating the perfect frame comes naturally, which according to her is a reflection of one's personal attitude! When asked whether she is perpetually in the mind frame to shoot, Karishma said that there are times during a vacation, when she just prefers to revel in the beauty around her instead of trying to get the perfect shot! People who know Karishma are also acquainted with her love for baking. Karishma summed up her affaire de Coeur with bakery and photography in one effortless statement, "Baking is more of a soul therapy, while photography just happens!"
She also has a piece of advice for the AILians- "Social media is a great platform but use it wisely!"